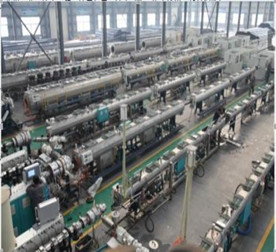 We focus on to reduce the cost of HDPE Pipe production,it is easy to made hdpe pipe now,but not easy to reduce the machine cost and pipe cost,not easy to increase the surface light of pipe and manning rate.

Below is process of HDPE Pipe extrusion:
Feeding--Melting--Extrusion--Molding--Calibration--Cooling--Cutting/Coiling--Package.
If You

Want to Make

Pipe

Please send your requirement to us
SUYOU PLASTIC MACHINERY CO.,LTD
Begin to make plastic pipe extrusion line since 1993.
Turn-key project
Timely reply, 24 hour quoteProvide Sample
How long does it take to sign a contract, no regrets
Urgent order, 100% prepaid, priority production