how to choose screw for exhausting type extruder
When you choose exhausting type screw...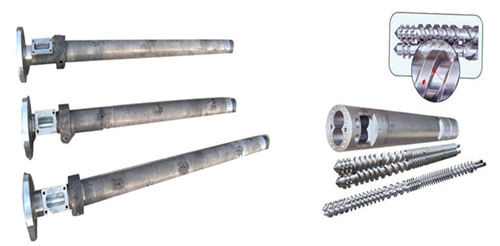 1)L/D Ratio: between 24-33,bigger length than single-step screw.
The section before exhausting part will be 52%-58% of total length of screw, that ensure plasticizing before materials running into exhausting section.Generally speaking,when L/D is 30,length of exhausting section is about 4D(D=diameter of screw). The second compressing section should be less than 2D, but the second metering section is longer and better,15-25% OF total length,which is good for stable extrusion.
2)Pump ration: Ratio(X) of depth of screw slot on second metering section(h2) and first metering section(h1), X=h2/h1
Usually, X is between1.6-1.7, that reduces the possibility of materials overflow out of screw.If extruder is for mixing color, X could be big. If for extrusion pipe profile,small.
If You

Want to Make

Pipe

Please send your requirement to us
SUYOU PLASTIC MACHINERY CO.,LTD
Begin to make plastic pipe extrusion line since 1993.
Turn-key project
Timely reply, 24 hour quoteProvide Sample
How long does it take to sign a contract, no regrets
Urgent order, 100% prepaid, priority production